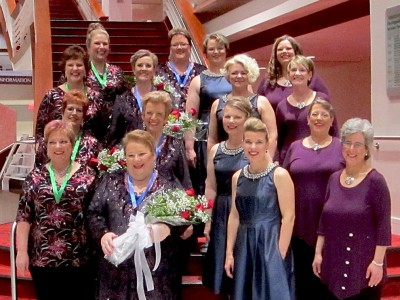 Wow, What a weekend - Yahara members represented well both on and off the stage!
1st Place Mid-size Chorus in Region 3, and 3rd Place overall !! - no small accomplishment in a region with a history of serious barbershop talent. This speaks very highly of Yahara's leadership - Director Jennifer Johnson and her fabulous music team; our wonderful coaches; our chorus section leaders and PVI team; and to our individual members' commitment and support for barbershop education and excellence. It's a real team effort. We felt good on that stage. 
Drum Roll Please . . . By Request - First Place Region 3 Quartet! They sang with heart and soul and got a standing ovation. Las Vegas - look out! Our other three quartets: BassLine, DreamRide, and Charisma! all made us proud. Charisma! took double honors - 5th place overall and their 2nd Most Improved Quartet award. Almost 1/3 of our membership was represented on stage in competing quartets this year. That may be a record. 
At the quartet class on Friday, most of the demonstration groups had a Yahara volunteer, from veterans like Sharon and Rachel to our new gal - Joy! Way to go!!!